Moonlight & Mistletoe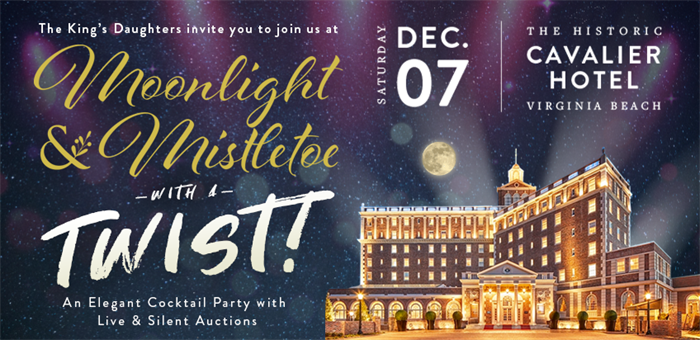 SOLD OUT!!! 
Please join us for the 7th annual Moonlight & Mistletoe with a TWIST.  An elegant cocktail party to benefit Children's Hospital of The King's Daughters (CHKD). 
In an effort to raise funds for CHKD's mental health initiative, this year, we are turning our traditional event into a progressive cocktail party (not a seated dinner)! From poolside to terraces to the grand Raleigh Room lounge, guests can enjoy each other while mingling through all aspects of the newly renovated historic Cavalier Hotel. Food stations, networking, silent and live auction of luxury packages, live music from the BJ Griffin Duo, photo opportunities, and much more will round out the evening!
All funds raised will go to CHKD's Mental Health Program. Never in our history has the need for childhood mental health services been greater. CHKD is building and staffing a 60-bed Pediatric Mental Health Hospital and Treatment Center.  This is an ambitious undertaking that depends on your support and that of our entire community.  We need your help in turningthis into a reality! Kids Can't Wait.