CHKD Thrift Stores
The CHKD Thrift Stores are a project of The King's Daughters.  The first CHKD Thrift Store opened in 1986 in Norfolk on Little Creek Road. This first store continues to be one of the top stores in sales and profits. CHKD Thrift Stores have expanded to include 22 locations throughout Hampton Roads, including Elizabeth City and Kitty Hawk, North Carolina.


Schedule a Pick-Up:
Free pick-up of donations is available Monday-Friday.  During warm months, Saturday pick-ups are available for community yard sales.  

To schedule a free pick-up of items, call:
•(757) 622-KIDS(5437) - Southside
•(757) 874-KIDS(5437) - Peninsula
•(855) 299-KIDS(5437) - Richmond


Hours of Operation
Temporary hours are 10 a.m. to 6 p.m. daily, and Sundays from noon to 5 p.m. The Monticello location is closed on Sundays.

Discount Days
MONDAYS
Military Day (retired / active) 25% off
TUESDAYS
Customer Appreciation Day 25% off for all customers on all items
WEDNESDAYS
Law Enformement and First Responders get 25% off
THURSDAYS
Senior Day (55 or older) 25% off
Donation Guidelines
We accept donations of anything in resellable condition except major appliances.
If you would like to donate an operational car or truck, boat, house trailer, etc., please contact Tidewater Auto Auction at (757) 487-3464 for details. The thrift stores are unable to accept vehicles.
The stores provide a much needed, inexpensive opportunity for shopping. Sales from all CHKD Thrift Stores benefit Children's Hospital of The King's Daughters. The Thrift Stores bring in more than $2 million to CHKD in a single year. Community support helps CHKD provide quality health care for more than 160,000 children annually.
A fleet of trucks is dispatched to pick up donations throughout the community. Also, donations may be dropped off at all locations during business hours.
Locations
We have locations throughout southeastern Virginia and northeastern North Carolina.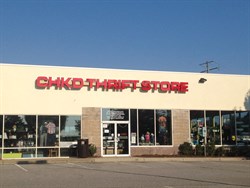 (Pictured: Shore Drive Location)
Click on the location's address to view a map.
North Carolina

Chesapeake, VA

Franklin, VA

Hampton, VA

Newport News, VA

Norfolk, VA

Petersburg, VA

Portsmouth, VA

Richmond, VA

Suffolk, VA

Smithfield, VA

Virginia Beach, VA

Williamsburg, VA