Donation Canisters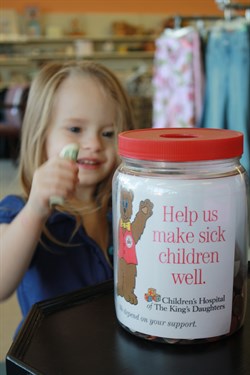 Small Change makes a Big Impact 
The King's Daughters have these donation canisters placed throughout Hampton Roads in all the CHKD Thrift Stores as well as many businesses who support CHKD.   Our volunteers collect the coins donated in these canisters and all funds go directly to help the children at the hospital. 
If you own or know of a business that would be willing to place a canister, we would love to hear from you. 
Annual Events
The King's Daughters' mission is to ensure the future of superior pediatric healthcare for our region through fundraising, advocacy and community support in partnership with Children's Health System. Membership is open to anyone who has a desire to uphold this mission.
RunWalk for the Kids
Join us for RunWalk for the Kids which will include an 8K Run, a 2-Mile Walk, and a 1-Mile Fun Run! Bring the whole family to run or walk, and enjoy family friendly activities, where "Everyone is a Hero at CHKD".
Read More