2019 Breakfast with Santa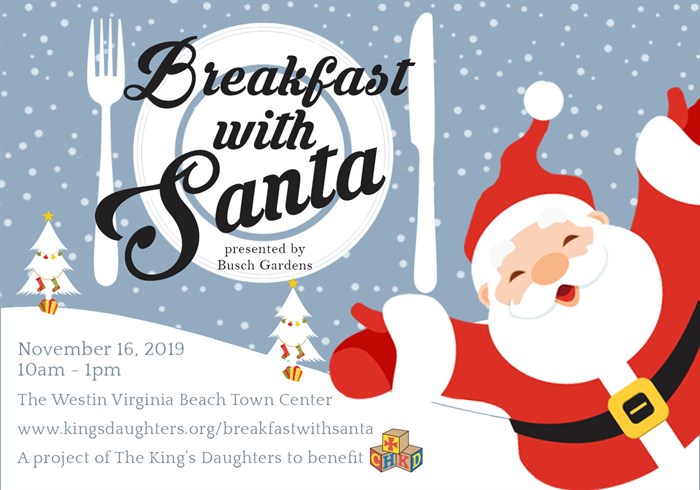 Join us for Breakfast with Santa presented by Busch Gardens Christmas Town. Enjoy live holiday performances, children's activities, interactive train display, silent auction of trees, gingerbread creations, and gifts or the opportunity to create a handmade gift to send to a patient at CHKD. Tickets to event also include a buffet breakfast, and a digital photo with Santa for each child! 
Never in our history has the need for childhood mental health services been greater. CHKD is building and staffing a 60-bed Pediatric Mental Health Hospital and Treatment Center. 
We need your help in turning this into a reality! 
Kids Can't Wait.
Breakfast with Santa is SOLD OUT!!!  
Reminders and Instructions for Saturday's Breakfast with Santa 
1. Breakfast with Santa is paperless!
 CHARGE YOUR PHONES FULLY FOR SATURDAY MORNING!
WE ARE DIGITAL FOR THE BREAKFAST WITH SANTA
SILENT AUCTION.
BIDPAL is a wonderful service which will allow you to use your smart phone. You will be able to move about and enjoy the event while bidding on your favorite tree, basket and/or gingerbread creation.   
Thank you for your generous support of Breakfast with Santa presented by Busch Gardens Christmas Town and Konikoff Pediatric Dentistry to benefit CHKD as a sponsor.  We look forward to seeing you this Saturday!
Event location: The Westin Town Center Virginia Beach 4535 Commerce St, Virginia Beach, VA 23462. This holiday tradition is fun for the whole family!
Some important info below:
PARKING Valet parking, fee: $29 daily or FREE Self-Parking entrance is located on Market St between Columbus and Commerce St
 This is a paperless event, so no tickets are needed! (you will have received an email confirmation if purchased online)

You will simply check in by using your name!!

If you are receiving fast pass/es, they will be handed out at the Check-In table for Santa's Photo Line. They are good for anytime during the event and a Volunteer will help facilitate your Fast Pass.
Upon arrival at the event check-in so we know you have arrived,  and can give you important info/instructions at that time (such as a text when it's time to go for your photo with Santa!)
The event features a Silent Auction you won't want to miss! Browse some items now, https://www.facebook.com/BreakfastwithSantaCHKD/

You will receive a text when bidding goes live so be on the lookout for it!

This year items may be bid on using your smartphone - Click on this link to learn more! /media/333749/howtobidpal-pdf-for-web.pdf
Have fun and bid high!  All proceeds from this event will benefit CHKD's Mental Health Program
Thank you for your support and we look forward to seeing you Saturday!
Santa Claus is coming to town!