RunWalk for the Kids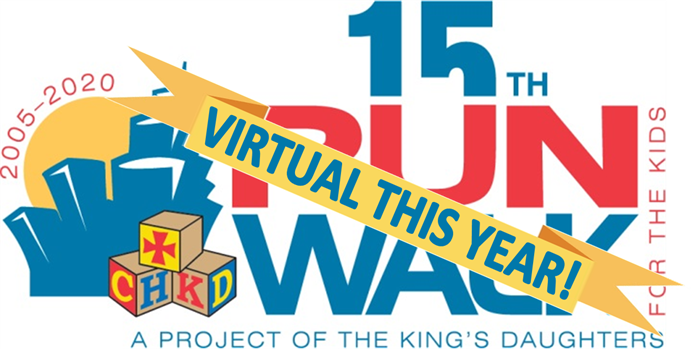 The 2020 CHKD RunWalk for the Kids is going VIRTUAL!
In response to the ongoing public health concerns brought on by the coronavirus pandemic, we have made the tough decision for this year's RunWalk event to be a VIRTUAL ONLY event.
As much as we were all looking forward to the 15th CHKD RunWalk for the Kids being a live event this year, we want everyone to be safe. This decision has been made out of concern for our participants, volunteers, spectators, and community. Our top priority is always the health and safety of everyone involved in our events.
There is NO DOUBT that COVID-19 will have a considerable impact on our children as their entire worlds have been turned upside down. Thank you for your support as we continue to fulfill the mental health initiative of CHKD and provide the transformative mental health care our children need and deserve.
---
8K Tech Shirt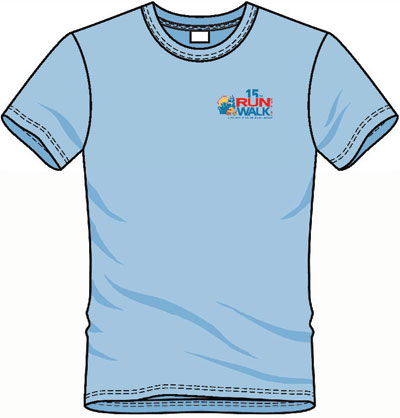 2 Mile Walk & 1 Mile Run Shirt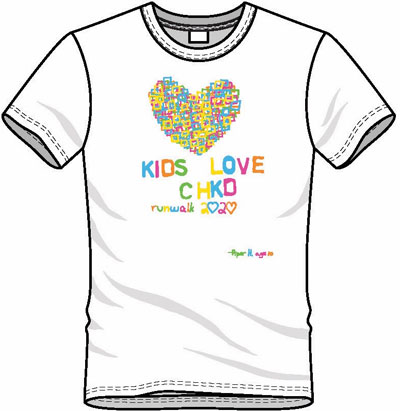 2020 CHKD RunWalk for the Kids Medal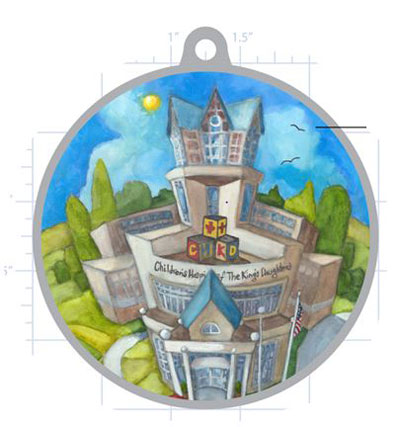 Congratulations, Piper H., for winning this year's 2 Mile Walk & 1 Mile Run shirt contest!!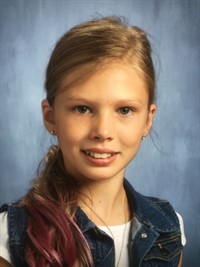 ---
Proceeds to benefit CHKD's Mental Health Program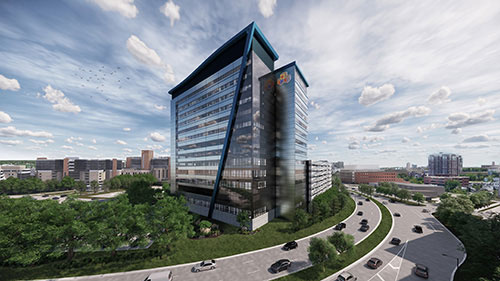 We need your help!
Now that the 15th anniversary of the CHKD RunWalk for the Kids has gone virtual due to COVID-19, fundraising pages are even more crucial than ever! Your fundraising page will help CHKD make an important investment in our children's mental health.
Construction on CHKD's 14-story mental health hospital is well underway – as is the fundraising for this transformative initiative. Children are suffering and they need our help. Too often, children wait for days, weeks or months for mental health services they need. Kids are in crisis. The truth is Kids Can't Wait.
---
2020 Sponsors

Aveanna Healthcare • CHKD Engineering Department • Damuth Trane • First Home Care • Smithfield Foods, Inc. • Virginia Beach Mayor's Youth Leaders in Action Program • Walgreens • Wilbanks Smith & Thomas Asset Management • Wolfe Design Studio
---
2020 Fundraising Page Teams
Anisley's Angels • Brothers Pelletier • CHKD Buddy Brigade • Circle by the Bay Team Tie-Ty • DanzStar • Daveport Shares • East Beach • Emily's Angels • Healthy You for Life • Is it the 4th Quarter Yet? • Miles for Miles • More Than 4 • Norfolk Runner/Walker Group • Pack Training Team • Racin for Mason • Team #Fa;th • Team AbbyG • Team Angel Baby • Team Child Life • Team Coastal P & O • Team G-Force • Team Jennifer • TEAM KENLEY • Team Noah Lee Robinson • Team Rehab • Team RWB • Team Sky • Team Sraddha • The CHKD Germinators • The Running Turtles

---
2020 Teams
Ainsley's Angels • Beach Kids Dentistry • Bioscrip Buddies • Brothers Pelletier • Charlie's Angels • CHKD Buddy Brigade • CHKD Residents • Circle By The Bay Team Tie-Ty • Circle in the Bridge • Coastal Junior Circle • Damuth Trane • DanzStar • Davenport Shares • Dominion Energy • Dominion Enterprises • DREW CREW • East Beach Circle • Ellie's Bath Bomb World, LLC • Emily's Angels • Endeavor Running Company • FIT4MOM Norfolk Run Club • General Booth Pediatrics • GOGGINS • Healthy You For Life • Heartmenders • Ignite Running • Is it the 4th quarter yet? • Jordan Bridge Rundays • Knight Crusaders • Lafayette River • License To Pill • Marathon Consulting • MBP • Miles for Miles • More than 4 • NERC • Norfolk Run Club • Norfolk Runner/Walker Group • North Suffolk Circle • November Project VB • One Step At A Time • Pack Training Team • Preemie Power • Racin for Mason • Reiders' Runners • Retail Alliance • Skeleton Krew • Smartmouth Brewed To Run Club • TCA All-Stars • TEAM #FA;TH • Team AbbyG • Team Angel Baby • Team Child Life • TEAM COASTAL P & O • Team G-Force • TEAM HOYT VIRGINIA BEACH • Team Jennifer • TEAM KENLEY • Team Noah Lee Robinson • Team NSO • TEAM REHAB • Team RWB • Team Sky • Team Sports Med • Team Sraddha • Team Super Silas • Team WAVY • The CHKD Germinators • The Hurry-ups • The Purple Dinosaurs • The Running Turtles • Trauma Queens (and Kings) • Tull Financial Group(ies) • Unicorns • VA and TayTay