Race Info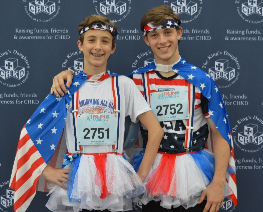 Wear your best SUPER HERO Cape!
In honor of our community heroes, military heroes, CHKD heroes, patients, or a special hero in your life. Stop by our donation table to have your photo taken or email your photo to info@kingsdaughters.org. Winners will be chosen by the highest "Likes" on our RunWalk Facebook Page by 12pm May 31st. Win a framed picture and a FREE 2023 registration!! #CHKDrunwalk
Packet Pickup
Locations:
PLEASE NOTE:
No team packet pickup
If you are 16 or older, you must have your ID to pick up your race number - NO EXCEPTIONS.
If you are picking up race numbers for others, you must have your ID, a note from the person you are picking up for authorizing you to pick up their packet and a copy of their ID - NO EXCEPTIONS. You may pick up a family member's race packet as long as you have the same last name and you have your ID.
Download Sample Authorization Form
Race Day Schedule
7:00AM Registration & Packet Pick-Up Opens / Food Tent Opens
8:00AM 8K Starts / Beer Served!
9:00AM  2 Mile Family Walk Start - NEW route
9:00AM Waterside District Breakfast Biscuits Available for Purchase
10:00AM 8K Awards – Top 3 Men & Women Overall
10:00AM Blue Moon Taphouse Opens for Brunch
10:15AM Cape Contest Parade
10:25AM Raffle Drawings & Team Awards
Race Rules
Absolutely no refunds. If you cannot join us race day, email info@kingsdaughters.org for a 100% tax deductible receipt before May 11, 2022
No transfers to another person
After May 11th, all race changes must be made at packet pick up. Fees may apply.
Parents that want to run with their kids must register due to safety and liability insurance rules.
It is imperative that the registration data associated to your race number does in fact belong to you, the participant. From race results to finishers' awards being impacted, as well as medical staff being able to correctly identify participants in need of treatment.
Course Maps
2 Mile Walk Course
Start and finish at Waterside District! Race start is at 9AM.
Download Course Map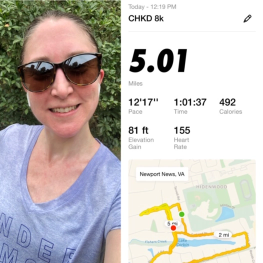 Virtual Races
For those who cannot make it May 14th; but would like to participate to earn a RunWalk shirt and medal, REGISTER for the VIRTUAL 8K RUN, 5K RUN, 2 Mile Walk OR Kids 1 Mile Run. Once you register, you have until May 15th to complete your run or walk. Please share a photo of your run, walk or crawl on our Facebook page or email it to info@kingsdaughters.org. Shirts, medals and goody bags will be mailed to all Virtual Registrants.
Race Bib Info & Results
This year's 8K will be timed by Flat Out Events.  8K bibs have a QR code with the link to race results.  Results can also be found here.  Contact timing@flatoutevents.com if you have any questions or race timing issues.
Race Photos
We would LOVE to see your race day photos, please tag us @RunWalkfortheKids, and #chkdrunwalkforthekids.  You can find race day photos on our Facebook page and your photos by bib number at Lida Nixon Photos.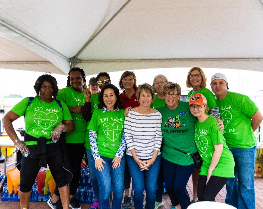 Volunteer Info
The success of our event depends on the countless volunteers who support it by giving of their valuable time and energy. Register to volunteer online or by scanning your application to info@kingsdaughters.org.
Download Application Register to Volunteer
Kid's Zone
Presented by the Virginia Beach Mayor's Youth Leaders in Action.
Bring the whole family to run or walk and then explore some of the family friendly activities in the Kid Zone! This expanded fun-filled area will include multiple activity stations for everyone to participate in, as well as corn hole, hula-hoops, face painting and the chance to meet CHKD's Healthy Bear. Designed for all ages, so families are encouraged to come out and enjoy the many activities together.
For Your Safety

CHKD Sports Medicine is the official medical service provider of RunWalk for the Kids. First aid, water stations and medical teams will be available for your safety.
Weather Forecasts
Weather forecasts are tracked before the race for heavy rain, thunder and lightning, high winds and extreme heat. If there is a possibility of threatening weather, information will be posted on our RunWalk Facebook page https://www.facebook.com/RunWalkfortheKids/ or this website home page, so that runners/walkers can prepare for severe weather during the race as well as possible course changes, delayed start, etc. Safety of all participants is priority. 
On race day, the Medical and Race Directors along with the City of Norfolk and Norfolk Police Department will decide if any changes will be made to the race/s. The race start time can change, the race can be postponed or the event can be cancelled. No Refunds will be given in the event of cancellation. (Water, fog and high winds may cause the course(s) to be changed or shortened.)
Street Courses
Starting at 5:30 am - 10:30 am:
All Eastbound lanes of Waterside Drive between Main Street and St Paul's Blvd
All Westbound lanes of Waterside Drive between Atlantic Street and Main Street
Southbound Boush Street between Freemason Street and Main Street
All streets will be under Norfolk Police control who will maintain vehicular access as needed when it is safe to do so. Thank you for your patience and understanding!
Parking
All participants and guests should utilize the City of Norfolk Public Parking Garages. Parking fees determined by the City of Norfolk.