Magnolia Circle
We are energetic, fun loving and outgoing - an informal group who enjoy socializing while working hard to raise funds for the hospital. Our members mostly live in Norfolk, but we have members from Virginia Beach, Chesapeake and surrounding cities. The Magnolias have combined fundraising efforts with other organizations such as the Sertoma Club of Norfolk, Tidewater Community College and several local businesses. Contact us at chkdmagnoliacircle@gmail.com.
MAGNOLIA CIRCLE DRAGON BOAT RACE FUNDRAISER TO BENEFIT CHKD
The Magnolia Circle of The King's Daughters is pleased to bring the 4th Annual 2018 Magnolia Circle Dragon Boat Race Fundraiser to Nauticus on Saturday, September, 15, 2018.  The 2015 Magnolia Circle Dragon Boat Race was the first of its kind in the Hampton Roads area.  We are a volunteer group focused on raising funds, friends and awareness to support Children's Hospital of The King's Daughters (CHKD) in Norfolk, Virginia. We invite you to join us in this exciting fundraising event.
Dragon boat racing offers corporate and community groups a fun and unique opportunity to cultivate team building and creativity at a reasonable cost. Dragon Boating is easy, fun, and no prior experience or equipment is needed! This is a unique opportunity for participants of all ability levels, it promotes team building, and brings the community together for fun at the Elizabeth riverfront.
Join us as a team, sponsor, individual paddler, volunteer or spectator for our 4th annual Dragon Boat Race Fundraiser on September 15th at Nauticus Pier!
The Dragon Boat Race Fundraiser is free and open to the public, so bring your friends and family!  Food, beverage, and retail vendors will be onsite including:
Food & beverages will be available for purchase
Beer provided by O'Connor Brewing Co.
Free water for athletes provided by Bank of America
Music provided by Promo Joe and Hot 100.5
T-shirts available for sale by MSP Design Group
Waterfront bleachers provided by the City of Norfolk
Check back for updates closer to the event!
CLICK HERE FOR SPONSOR INFORMATION
CLICK HERE FOR REGISTRATION INFORMATION
CLICK HERE FOR TEAM & EVENT DAY INFORMATION
From races to music and festivities, downtown Norfolk will be alive with family friendly opportunities for fun as spectators and participants. We look forward to your participation in the Magnolia Circle Dragon Boat Race to support CHKD.
If you have any questions, please contact us at chkdmagnoliacircle@gmail.com and a Magnolia Circle member will reach out to you.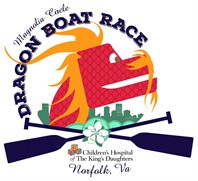 Registration is open for the 2018 Dragon Boat Race Fundraiser on September 15th!  Click here to register:
/upcoming-events/2018/09/4th-annual-dragon-boat-race-and-festival/
Thank you to all of our 2017 partners, sponsors, teams & volunteers for a successful 3rd Annual Dragon Boat Race Fundraiser!