Magnolia Circle
We are energetic, fun loving and outgoing - an informal group who enjoy socializing while working hard to raise funds, friends and awareness for Children's Hospital of The King's Daughters (CHKD) in Norfolk, Virginia. Our members mostly live in Norfolk, but we have members from Virginia Beach, Chesapeake and surrounding cities. The Magnolias have combined fundraising efforts with other organizations such as the Sertoma Club of Norfolk, Tidewater Community College and several local businesses. Contact us at chkdmagnoliacircle@gmail.com.
MAGNOLIA CIRCLE DRAGON BOAT RACE FUNDRAISER, PRESENTED BY ADP
The Magnolia Circle of The King's Daughters is pleased to bring the 5th Annual 2019 Magnolia Circle Dragon Boat Race Fundraiser to Nauticus on Saturday, September 14th, 2019.  The 2015 Magnolia Circle Dragon Boat Race was the first of its kind in the Hampton Roads area.  We invite you to join us in this exciting fundraiser by becoming a sponsor, forming a team, volunteering or making a donation.
Dragon boat racing offers corporate and community groups a fun and unique opportunity to cultivate team building.  Dragon boating is easy, fun, and no prior experience or equipment is needed! This is a unique opportunity for participants of all ability levels, it promotes team building, and brings the community together for fun at the Elizabeth riverfront.
The Dragon Boat Race Fundraiser is free and open to the public, so bring your friends and family!  Food, beverage, and retail vendors will be onsite including:
Food & beverages available for purchase, donated by Morrison Healthcare
Free breakfast bar and coffee for paddlers!
Beer provided by O'Connor Brewing Co.
Free water for athletes, donated by Norfolk Pure
Music & announcements provided throughout the day
T-shirts available for sale
Waterfront bleachers provided by the City of Norfolk
Commodity tickets available for pre-sale on the registration page for team captains
As a sponsor of the Magnolia Circle Dragon Boat Race Fundraiser, you can be an invaluable contributor giving help and hope to children in our community.  Not to mention contributing to the health and wellbeing of your employees by showing support for Children's Hospital of The King's Daughters (CHKD) Mental Health Program.  As an event sponsor, you will:
SUPPORT The King's Daughters in raising $1 million toward CHKD's Mental Health Program
PROVIDE

a fun and healthy team-building experience for your organization

DEMONSTRATE

your company's commitment to the health & wellness of children and families in our community

EXPERIENCE

a unique opportunity for participants of all ability levels to paddle on the Elizabeth River in Norfolk!

 
2019 DRAGON BOAT RACE SCHEDULE
| | |
| --- | --- |
| 7:30 am   | Teams arrive and assemble in Athlete Village  |
| 8:00 am   | Team Captains' Meeting  |
| 8:15 am   | Warm-up with Iron Maiden Fitness, Alison Dahl |
| 8:30 am   | National Anthem & Opening Ceremonies  |
| 9:00 am  | First Round Qualifying Heats – 300m  |
| 11:00 am   | Semi Final Round Racing Begins  |
| 1:00 pm   | Championship Round Racing Begins  |
| 3:00 pm   | Awards & Medal Presentations; Closing Ceremony  |
*

These are general race times and may change slightly depending on the length of each heat.
WANT TO BE A SPONSOR?  CONTACT US AT chkdmagnoliacircle@gmail.com
CLICK HERE FOR REGISTRATION, TEAM & EVENT DAY INFORMATION
CLICK HERE FOR A "SEAT YOUR BOAT" CHART
If you have any questions, please contact us at chkdmagnoliacircle@gmail.com and a Magnolia Circle member will reach out to you.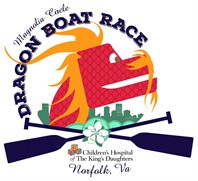 Registration is open for the 2019 Dragon Boat Race Fundraiser on September 14th!  Click here to register.
The first 12 teams to register will receive medals for each participant - be sure to register early to guarantee medals and secure preferred practice days and times! 
Thank you to our 2019 Sponsors!
ADP - Presenting Sponsor
Morrison Healthcare - Food Sponsor
O'Connor Brewing Co. - Refreshments
Foley & Foley - Medal Sponsor
Beskin-Divers/Premier Millwork - Bracket
Colliers International, Volunteer T-Shirts
Dominion Enterprises - Dragon Team
Paul Merrit, NTrust - Music Sponsor
City of Norfolk - Water 
AvalonBay - Dragon Sponsor
Troy Marine - Medical Sponsor
Jon M. Babineau, P.C. 
Nora Systems & Interface Flooring
Good luck to our 2019 Dragon Boat Teams!
Team Elevate ADP
Team Lead ADP
Team Norfolk
Dominion Enterprises
Marathon Consulting
Super Strokers, TQI Solutions
TST Construction
Avalon Bay
O'Connor Brewing Company
Anthem
 Nora Systems & Interface Flooring
Jon M. Babineau, PC - Attorney
Verizon Fios
Port of Virginia
Howard Hanna