Happy Retirement, Barb!
Monday, September 12, 2016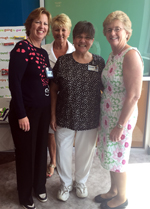 CHKD Medical Group and the entire CHKD community would like to wish Barb Fryer a happy retirement.
Barb is retiring after 35 years of service. She started as a volunteer in CHKD's NICU in the early 1980s and a short time later was officially hired as the ward secretary on the Infectious Disease Unit.
It was in this role that she met Dr. Sue Lee, founding physician of Chesapeake Pediatrics. Struggling to open a new practice, Barb volunteered to help build Chesapeake Pediatrics into the thriving practice it is today.
Barb would continue to serve CHKD by working in the PACU, the CHKD Gift Shop, and back to Chesapeake Pediatrics. She even volunteered her time as a member of the In As Much Circle.
Happy retirement, Barb! Thank you for your many years of dedicated service.