A Report on The King's Daughters Milk bank by Dr. Michelle Brenner
Wednesday, January 13, 2016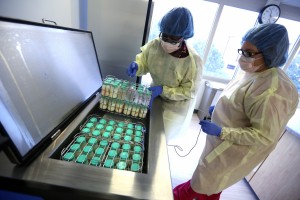 "''GOT MILK?'' WE DO! The King's Daughters Milk Bank, the
18th milk bank in the Human Milk Banking Association
of North America (HMBANA), opened its freezers to
breastmilk donors in June 2014. The King's Daughters Milk
Bank was established by the generous contributions of The
King's Daughters, the original founders of the Children's
Hospital of The King's Daughters (CHKD) in Norfolk, VA.
The story is one of over 100 years of giving back to the
community, with a wonderful history of caring, volunteerism,
and overwhelming community support, now providing donor
human milk to the most medically fragile infants.
CHKD, located in Norfolk, is Virginia's only freestanding,
full-service pediatric hospital. It is a 206-bed regional pediatric
referral center for Southeastern Virginia, Virginia's
Eastern Shore, and Northeastern North Carolina. It currently
provides specialized medical subspecialty care to children
with acute and chronic healthcare needs."
To read the full article click HERE