Tours of CHKD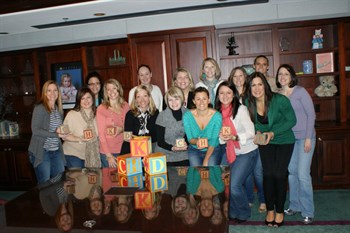 Hospital tours can be very motivating and a great reminder of the cause our organization promotes and exists to support.  Circles are encouraged to hold one meeting a year at CHKD and tour the facility. Tours are available to book March 1 – October 1.  Circle meetings and tours must be planned in advance through the KD Office. Tours may be scheduled at CHKD in Norfolk, Princess Anne, Oyster Point, or Oakbrooke locations. 
We ask Circles to refrain from scheduling tours on the same day as a KD Connect or other organization-wide meeting or Major Project. Circle tours will not take place during peak flu season (November - February). If any member is ill or has any symptoms we ask they do not attend the tour. 
To schedule a tour for your Circle, please submit a Tour Request Form to the KD Office. In addition, appropriate forms will be provided that must be signed by each Circle member taking the tour.  You will receive a confirmation once a tour guide and meeting room (if applicable) is confirmed.  
Interested in becoming a Tour Guide?  Training is available!
Email:  Info@KingsDaughters.org
Annual Events
The King's Daughters' mission is to ensure the future of superior pediatric healthcare for our region through fundraising, advocacy and community support in partnership with Children's Health System. Membership is open to anyone who has a desire to uphold this mission.
Breakfast with Santa
Experience the Christmas magic for children of all ages including a visit from Santa & more!
Read More
Moonlight & Mistletoe
This year's 11th Annual Moonlight Gala, hosted by The King's Daughters to benefit CHKD, will be a magical evening held at Hilton Norfolk The Main, on December 2, 2023. This elegant, high energy event will begin with cocktails and networking, followed by dinner, with a unique silent and live auction, followed by dessert and dancing with DJ West. Help us bring hope to kids in our community.
Read More