The Great CHKD Retail Adventure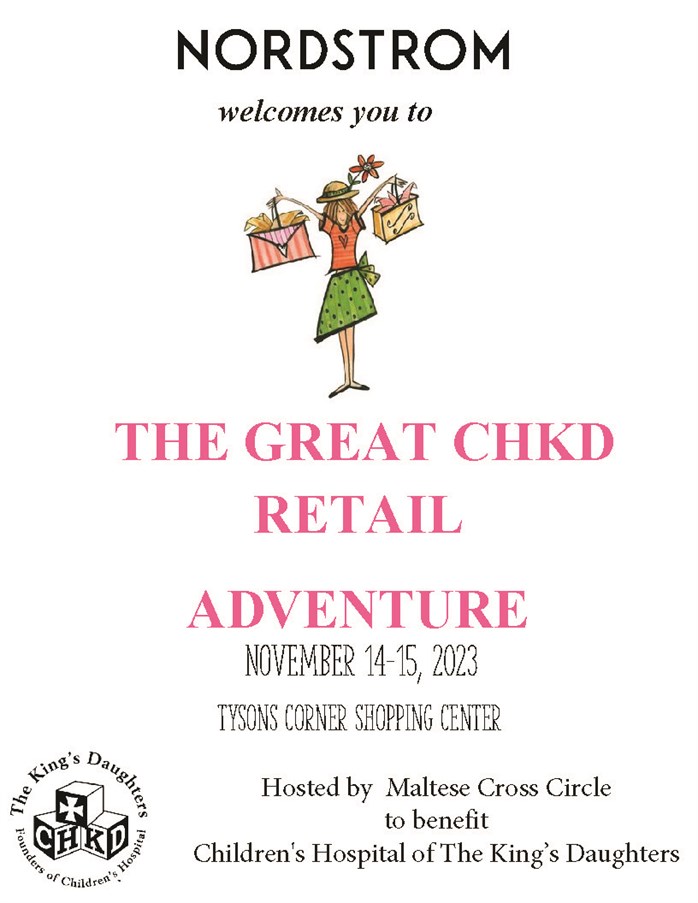 Are you ready to indulge in a 2-day shopping extravaganza like no other with Maltese Cross Circle? Gather your shopping buddy and set your sights on Tysons Corner, where Nordstrom is opening their doors exclusively for 2 hours of private shopping time and much more.
Dates: Tuesday, November 14th, 8:00 a.m. - Wednesday, November 15th, 7:30 p.m.
Departure: Amtrak station at Harbor Park Norfolk | Ticket Price: $125 Non-refundable
Includes:
Luxury transport to Tysons Galleria and Tyson Corner with refreshments and movies.
Transportation provided between The Westin Tysons Corner Hotel, Tysons Corner and Tyson Galleria
Exclusive shopping opportunity with Nordstrom.
Complimentary continental breakfast.
10% discount at the Nordstrom café.
Your confirmation email will include access to sign ups for makeovers, facials, and your own personal shopper or stylist.                         
Check out the full itinerary here
Optional Add-on: Extend the excitement with an optional dinner and an interactive comedy play at the Kennedy Center: Shear Madness. Purchase BELOW - Deadline to purchase this option is October 20th! 

Accommodations: You must book your own lodging.

The Westin Tysons Corner has provided a special CHKD discounted room rate of $169/night. Elevate your experience by opting for a double room with your shopping companion (Limited availability deadline is Oct 22nd). Discounted booking link will be provided upon your reservation for the shopping event.

By joining us, you not only ensure an incredible time but also contribute to CHKD's Children's Pavilion.

Drawing from past instances, we anticipate a swift sell-out. Don't delay— Spots are limited. Purchase a ticket  now and join us for an extraordinary adventure for a great cause!

Tickets are non-refundable. Kindly be advised, to enjoy the exclusive shopping experience  a ticket is requisite for a personalized shopping encounter at Nordstrom. Your confirmation email will include access to sign ups for makeovers, facials, and option for personal shopper or stylist. 
PLEASE DO NOT DELETE YOUR CONFIRMATION EMAIL!